Planning To Sell Your House? 6 Things You Must Do
For every homeowner, a house is commonly known as one of the biggest investments in their lives. So when it comes to selling your property, it is quite obvious that you would be expecting a good return for it. When you live in the same house for a long period, likely, it won't look the same as it did when you purchased it. This is why you night to focus on things that impact the buyers' first impression of your house. Your house might look dull and dingy, and you might need to have a pre-home inspection of what you might need to do to get your home ready to sell.
Do you think that the buyers would like to buy a house that does not seem worth the money they plan to spend? Selling a house that needs repairs is quite challenging. Preparing your house for sale will not only get you good buyers but will also potentially increase the value of your property. If it takes around 6 to 7 months to get a house sold in your neighborhood, you could do the same within 3 to 4 months. According to experts, it is recommended that upgrading the residential property before getting it listed with a real estate agent will help you to gain the best price possible. In this article, we will guide you on preparing your house for sale and how to get potential buyers when you are going to sell your home.
So how will you upgrade the house? Here are the 6 most important things that you can do while planning to sell your home. Here are our six things for getting your house ready to sell checklist.
#1 Your Immediate Task Should Be To Depersonalize and Declutter: 
When you are living in a house, you would have decorated it in the way you desired. Therefore, it is perfectly designed for you and not for your potential home buyers. We want to help potential buyers be able to see their art, pictures, and furniture in your home. It would help if you made your house look depersonalized. Besides this, you need to pack away the items you will not need until you move into your next home. It will help you impart and maintain a neat look to the house. If you want the buyers to picture themselves in this house, you can rearrange the furniture to make the house look spacious and perfect. Many real estate agents tell their clients to visit a new home builder and tour their models to get ideas on how to stage their houses properly. This helps homeowners go from trying to sell their house to actually selling it.
Staging right will make your home give off a neutral and welcoming feeling. This will help the buyers see themselves in your home and help the buyer decide to write an offer on your listing.
#2 Provide Thorough Cleaning To The House: 
Cleaning is an essential part of the house upgrade when you have planned to sell the house. Whenever prospective home sellers ask for advice about selling your home quickly, the response is always — start with deep cleaning the entire house. You can hire professionals who would help you by providing thorough cleaning services to make your house look new and shiny. Get the windows, doors, kitchen cabinets; bathroom cleaned perfectly. You can even get the parking area cleaned where the vehicles are parked. Yes, you can do the cleaning yourself, but working with professionals will ensure that every nook and corner of the house is neat and clean. They have advanced equipment that will make the cleaning process easy and quick.  Prospective buyers will enjoy the fresh, clean look and smell of your house. Selling a home to a potential buyer that is super clean will make it that much easier.
#3 Improving the Curb Appeal Of The House: 
For improving your home's curb appeal of your house, you need to improve the appearance of the roofs, siding, decks (if you have any), and garden area. You must get help from professionals to get the roofs and siding cleaned and look well-maintained. The professionals will help you to know the exact condition of the roof. If there are any immediate repairs required, you can plan and get those done. Besides, you can replace the old shingles with new ones, upgrade the flashing, improve the roofing vent and replace the gutters. These steps will improve the curb appeal and increase the home's value of the house. You can even get the sidings cleaned, complete the small essential fixes, and apply a fresh coat of paint. Painting even the smallest things like your front door will positively impact your potential home buyers' experience.
If you have a deck area, you must get it inspected by professionals and check whether there are any cracks or broken areas that require immediate attention.
Besides roof and siding, you also have to improve the garden area by painting the fence, planting flowers, trimming the trees, and mowing the lawn. You can decorate this area with proper lighting. You can even pave the path with ornamental plants, which will enhance the look of the house.
#4 Get All The Repairs Done:
Inspect the house thoroughly and list all the things that require repair work. If you notice any minor cracks on the walls, doors, windows, or ceiling, you must get them sealed and applied with a new coat of paint to make them look new and attractive. Besides this, you must fix the loose tiles, leaky faucets, check all the electrical wiring, kitchen appliances, and light fixtures. If any of these things require immediate servicing, you must not delay it. Ensure to take care of these items because the last thing you want is for your escrow to fall out of escrow because of maintenance issues.
#5 Upgrade The Kitchen: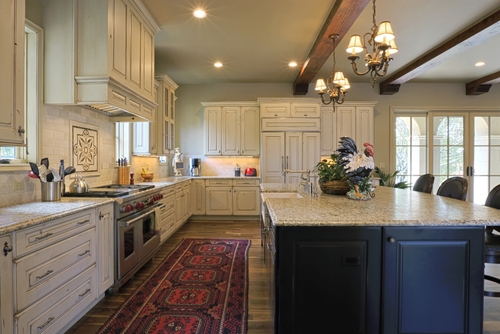 The kitchen is one of the essential parts of a house that is always scrutinized before finalizing a house. So you should renovate the kitchen cabinets, kitchen floors and replace the old appliances with new ones. You can also replace the countertops if they have become stained and worn. If you are on a tight budget, you can paint the cabinet and perfectly clean them to look new and attractive. You can also change the old-fashioned kitchen faucets with modern taps and sinks to impart a new modern design look to the kitchen area. Potential buyers like the smart technology
#6 Integrate Smart Technology:
Yet another interesting way to upgrade your house is to integrate smart technologies such as smoke alarms, security systems, and burglar alarms. Lights that automatically brighten or dim according to the ambient light. These things will increase the value of your house. You can even install other automatic home systems, such as timed sprinklers, for watering the garden properly.
Summary:
House selling is an extremely daunting process, and you need to plan a lot of things to grab the buyers' attention and attract them to buy your residential property. It is always good to have a getting house ready to sell checklist to review before you list your home. This checklist will ensure that you don't miss out on anything important. Besides these aforementioned steps, you also need to get all the documents ready and employ a photographer to get high-resolution pictures of the house, get the house listed on the real estate portals, schedule home tours, and negotiate with the buyers. It would help if you considered taking the assistance of a real estate agent as they are experienced and qualified, and they would help you understand the entire home selling process. They would help you to take the right steps at the right time.